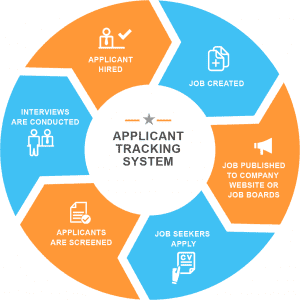 An Applicant Tracking System ("ATS") is a software application also called Recruiting Software enables the electronic handling of corporate recruitment needs. Most include a corporate career site, allowing companies to post jobs onto their own website, as a way to attract candidates. Candidates may apply for specific jobs or generally to the company. The candidate data will be stored inside a database to allow effective searching, filtering, and routing of applications.
The largest organizational benefit of an applicant tracking system is improved productivity of the recruiting team. Electronic handling of requisition and candidate data allows significant opportunities to reduce inefficiencies through automated processes. Further, the improved organization of candidate information allows quicker decision-making. All of this leads to reduced cost and time per hire.
Applicant tracking systems designed with recruiting and staffing firms in mind differ somewhat from those with a corporate HR orientation.
These typically include more robust reporting tools, as well as more comprehensive tools for contact management and client and candidate management. These additional functions make them particularly well-suited for contract staffing firms and/or firms with higher employee turnover.
Applicant Tracking Systems are a subset of TMS systems (Talent Management System) and are very popular in the ASP or SaaS model (Software as a Service), although some systems are self-hosted. The market space for these systems ranges from those costing a few hundred dollars into the millions of dollars depending on the complexity and scope of the need.