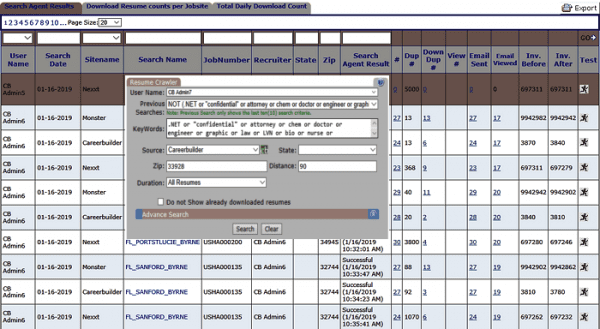 Nothing is more daunting task than searching the Web for talented individuals and having to persue hundreds of resumes. With StaffingSoft's Recruiting Software you get your own Resume Crawler, which provides you with capability to crawl our partner Job Sites such as Monster, CareerBuilder, Nexxt and more for potential candidates. With StaffingSoft's Applicant Tracking System you can find the best candidates to match your jobs.
StaffingSoft's designers and architects are industry leading experts in both software development and in human resources staffing. Designed based on object oriented technologies, StaffingSoft utilizes only the latest Web and Microsoft Technologies. We have been providing superior services and customizable solutions since 1989.
Discover how StaffingSoft Software can transform your recruiting process into a valuable database that will save you time, help you build a competitive edge, and acquire new business. Along with our customizable Resume Crawler, we provide you with many more online workflow management solutions. For more information on how we can save you time and improve your bottom line, call 1-972-267-5194.
Your Own Customizable Resume Crawler!
StaffingSoft's Resume Crawler is only one of our powerful suite of tools that does all of the work for you–crawling Job sites for talent and sorting through all the resumes. Our Resume Crawler will save you countless hours searching for resumes and will deliver results within just a few short seconds. With our customizable Resume Crawler, you simply input what you are looking for, and it will crawl the Web, searching for the talent that matches. What better way is there to weed out candidates and streamline the recruiting process?