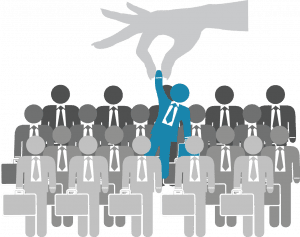 Nowadays, recruiting software also known as staffing software is being used more and more to help companies locate the right employee who will fit their corporate culture.
Much of the corporate human resources and recruiting industries are using various recruiting software technologies in order to gain an advantage over their competitors, especially if you are able to find the best possible candidate before your competitor.
We strongly believe having a high performance applicant tracking system in place is the main key for a recruiter to compete in the highly competitive market and in the in the current economic climate.
StaffingSoft's Recruitment Software offers many advantages of quick recognition of the appropriate and prospective employees, which is particularly important considering the shortages of candidates for some industries such as IT, Healthcare and more.
Recruiters now more than ever trust their hiring management system to help them to fill the open positions faster that their competitors. Moreover, there are long lists of recruiting services available on the marketplace but only the most efficient one will provide the most precise information.
Even if technology cannot solve all the issues (shortage of qualified staff) in the healthcare field, healthcare organizations that use applicant tracking system will increase the efficiency and decrease cost of identifying qualified candidates by using the automated hiring process and potentially decrease the turnover rates.
Why not take advantage of the time and do a little research just to ensure that what you have in place is still the best product for you. This is the right time to evaluate your applicant tracking software practicability and ensure that it is still the best alternative you have for your recruiting needs. Using our applicant tracking system you can improve the quality of hire and you can reduce the time you usually need to make a hire.
The hiring management system can help you a lot in the long run. Not only that recruiting software saves more time and the system will assist with hiring the proper individuals as well.
StaffingSoft was designed for recruiting efficient personnel for all industries, permanent placement staffing agencies, healthcare staffing, executive search firms, team leaders and more. You now can get StaffingSoft applicant tracking software in the US, Canada, UK, India, Africa, Germany and France.
At Staffing Soft you need to consider three major advantages that play a great role in your business success: System Reliability, Affordable Pricing, and Customer Support.
Customer support and satisfaction is the top priority at StaffingSoft. And that is because satisfied clients are the best source of energy and support for the StaffingSoft developers and technical staff to challenge their skills and abilities to provide clients with unique, useful and complex needs. Do not waste more time! Choose the StaffingSoft professional solution and develop a successful team!