Cloud-Based Recruiting Software
StaffingSoft Recruiting Software is today's most comprehensive cloud-based application tracking software. It is designed to fit even the most complex requirements of the HR world. StaffingSoft has been developed to facilitate the everyday workflow in all business processes. Tailored to satisfy even the pickiest users, we offer two separate editions.
The HR Edition
The HR Edition offers the easiest way to find and manage top talent today. The main purpose of the StaffingSoft HR Edition is to streamline your hiring process, while reducing the time to hire. It will increase the quality of hired professionals, while saving you resources.
The HR Edition is convenient for organizations of all sizes. If you are looking to manage your most valuable assets – people – this software reduces the time needed to find talent, while automating manual tasks and repetitive online candidate search. The centralized database provides better availability coordination and smoother HR resource management cycles.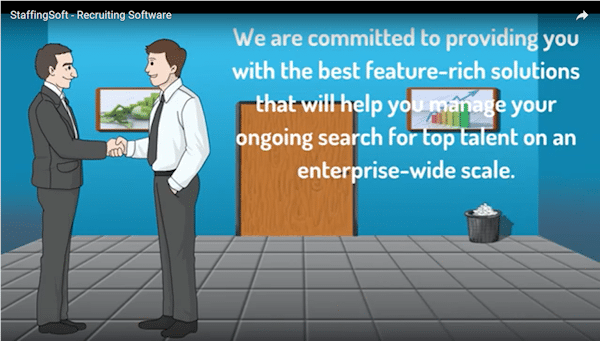 Product features – guaranteed to add value in the HR process – include:
• Automated Resume Processing
• Skill Based Candidate Matching
• Candidate Screening
• Job Order Matching
• Candidate Tracking
• Automated Requisition Approval Process
• Standard and Custom Reports
• Cloud based Email System
• Lead Generation / Bulk Emailing / Email Blasting
• Multi-User Integrated Calendar
• Workflow Management
• Scalable Architecture
• Cloud based employee Time Tracking System
The HR edition also includes many automated features that will save your business time and resources, as well as making it more efficient and effective. Among other things, the software will automatically post jobs to both free and paid sites, it will check references, and it will search the internet for resumes.